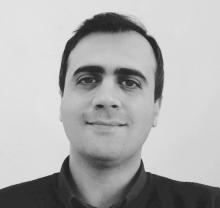 Nadi Serhan Aydın,

Dr.

Faculty Member
Nadi Serhan Aydın received his BSc. degree in Management Engineering from İstanbul Technical University (2006), and his MSc. (2011) and PhD. (2016) in Financial Mathematics from the Institute of Applied Mathematics at Middle East Technical University. He carried out his doctoral thesis studies at the Financial Signal Processing (FSP) Lab, Imperial College London, under the supervision of Prof. Anthony G. Constantinides. During his graduate studies, Dr. Aydın was also granted research fellowships at Heidelberg and Ulm Universities. During 2011-2016, he worked as a senior researcher at an international organization based in Ankara and mainly coordinated joint projects with the World Bank, UN institutions and the Islamic Development Bank, with a particular focus on financial sector development. During 2017-2018, he taught courses at the Department of Industrial Engineering at TED University in Ankara. He is currently the chair of the Department of Industrial Engineering at Istinye University in Istanbul. Dr. Aydın is a designated Financial Risk Manager (FRM) and an approved Exam Preparation Provider (EPP) registered with the Global Association of Risk Professionals (GARP) located in New Jersey, USA. He offers professional training courses to industry professionals in areas such as risk management and quantitative finance. He also serves as a referee and/or associate editor for a number of international journals and math review services. His research interests lie in quantitative finance, computational methods, dynamic programming, financial signal processing, machine learning, and network modelling.
Main Areas: Endüstri Mühendisliği,
2020 - Asset-backed stable numéraire approach for sustainable valuation
AYDIN NADİ SERHAN,RAINER MARTIN.
JOURNAL OF SUSTAINABLE FINANCE INVESTMENT,
1(2),
2020 - A bi-objective robust mathematical model for rescue units allocation and scheduling with learning effect
BABAEE TIRKOLAEE ERFAN,AYDIN NADİ SERHAN,WEBER GERHARD WILHELM,RANJBAR BORURANI MEHDI.
COMPUTERS INDUSTRIAL ENGINEERING,
149(),
2020 - Integrated Design of Sustainable Supply Chain and Transportation Network using Fuzzy Goal Programming Optimization
BABAEE TIRKOLAEE ERFAN,AYDIN NADİ SERHAN.
APPLIED SOFT COMPUTING,
2020 - Fuzzy Integrated Cell Formation and Production Scheduling considering Automated Guided Vehicles and Human Factors
AYDIN NADİ SERHAN,BABAEE TIRKOLAEE ERFAN,GOLI ALIREZA,DEHNAVI ARANI SAEED.
IEEE TRANSACTIONS ON FUZZY SYSTEMS,
2017 - A Quantitative Framework for Stress-testing under IFSB and Basel Capital Rules
AYDIN NADİ SERHAN.
International Journal of Islamic and Middle Eastern Finance and Management,
10(3),
290-311.
2013 - Valuation of power swing options
AYDIN NADİ SERHAN,RAINER MARTIN.
Journal of Energy Markets,
6(3),
89-110.
2013 - Simulation and Prediction of Wind Speeds: A Neural Network for Weibull
GIEBEL STEFAN,RAINER MARTIN,AYDIN NADİ SERHAN.
Journal of Iranian Statistical Society,
12(1),
293-319.
2010 - Stress Testing of Energy-Related Derivative Instruments Based on Conditional Market Risk Models
AYDIN NADİ SERHAN,KUCUKOZMEN COSKUN.
Journal of Energy, Market and Regulation,
1(2),
121-144.
Financial Modelling with Forward-looking Information: An Intuitive Approach to Asset Pricing
2017 - İngilizce, Bilimsel Kitap
ISBN: 978-3-319-57147-8


AYDIN NADİ SERHAN