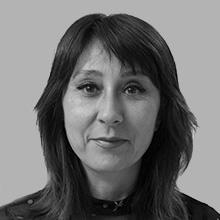 Hatice Yurttaş,

Dr.

Öğretim Üyesi
Hatice Yurttas received her BA in English Language Teaching from Middle East Technical University in 2001. She completed her MA (2009) and doctorate (2014) in English Language and Literature at the University of Istanbul. Her doctorate research is based on postmodern women's writing, and the novel genre. She continues to work on women's writing, the novel, and postmodern literary theories.
Research Area: "women's writing, novel
Main Areas: Dünya Dilleri ve Edebiyatları, İngiliz Dili ve Edebiyatı,
2018 - Identity and Intertextuality in Kate Atkinson's Emotionally Weird
YURTTAŞ HATİCE.
Selçuk Üniversitesi Edebiyat Fakültesi Dergisi,
2018 - Masquerade in Fingersmith
YURTTAŞ HATİCE.
JNT-JOURNAL OF NARRATIVE THEORY,
48(1),
109-134.
2018 - Class and Art in E. M. Forster's Howards End
YURTTAŞ HATİCE.
Dil ve Edebiyat Araştırmaları Dergisi,
18(18),
229-245.
2018 - The End of an Age: William Shakespeare'xxs Troilus and Cressida
YURTTAŞ HATİCE.
Eskişehir Osmangazi Üniversitesi Sosyal Bilimler Dergisi,
19(2),
51-64.
2017 - Reading "The Penelopiad" through Irigaray: Rewriting Female Subjectivity
YURTTAŞ HATİCE.
Hacettepe Üniversitesi Edebiyat Fakültesi Dergisi,
34(1),
205-217.
2016 - AN ORIGINAL COPY: THE FILM ADAPTATION OF KAZUO ISHIGURO'xxS NEVER LET ME GO
YURTTAŞ HATİCE.
SELCUK UNIVERSITESI EDEBIYAT FAKULTESI DERGISI-SELCUK UNIVERSITY JOURNAL OF FACULTY OF LETTERS,
36(null),
189-210.
2010 - Kristeva Konferansı Ardından Dişi Özne Üzerine
YURTTAŞ HATİCE.
Amargi,
Çin Mutfağı
2018 - Türkçe, Kitap Tercümesi
ISBN: 978-975-343-994-7


YURTTAŞ HATİCE
Imagining the End: Interdisciplinary Perspectives on the Apocalypse
2015 - İngilizce, Bilimsel Kitap
ISBN: 1848883528


YURTTAŞ HATİCE
Languages, Cultures, and Gender
2017 - İngilizce, Bilimsel Kitap
ISBN: 9786053382270


YURTTAŞ HATİCE
A Critical Approach to the Apocalypse
2013 - İngilizce, Bilimsel Kitap
ISBN: 9781848882706


YURTTAŞ HATİCE