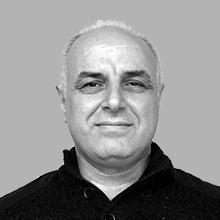 Ayhan Yavuz,

Dr.

Faculty Member
He was born in 1967 and got the pre-university education in Trabzon. He got his university education in English Language Teaching Department at 19 Mayıs University, Samsun between the years 1983-1987. After carrying out his profession at different institutions like state schools, private schools and universities about 27 years, he started his academic studies in 2009 and got his master's degree in the Translation and Interpreting Department at Atılım University, Ankara in 2012. He finished his PhD in the English Language Teaching Department at Hacettepe University in 2017. Beginning from 2007, he carried out 3 different and important EU projects as a coordinator and as an expert. Besides, he carried out the post of evaluating different EU projects in 2 different terms as well. He still keeps doing researches in the fields of English Language Teaching and Translation as an academician at İstinye University.
Research Area: Second Language Acquisition, Translation and Interpreting
Main Areas: Yabancı Dil Eğitimi, İngilizce,
2014 - Materials Development for Adult Learners in Teaching Vocabulary
YAVUZ AYHAN.
Sino US English Teaching,
11(4),
259-276.