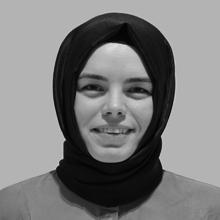 Tuğba Mahmutçepoğlu,

Dr.

Öğretim Üyesi
Tuğba Yıldırım received her BSc. degree in Mathematics from İstanbul University (2011) and her PhD. degree in Mathematical Engineering from İstanbul Technical University(2018). During her PhD, she stayed in USA for a year as a visiting research scholar at University of Minnesota. Dr. Yıldırım worked as a teaching assistant at İstanbul Technical University (2011-2018) and then she taught mathematics courses in different universities.
Research Area: Local cohomology, Theory of D- modules, Theory of F-modules
Main Areas: Matematik, Cebir ve Sayılar Teorisi,
2020 - Modules of Finite Length
YILDIRIM TUĞBA,HARMAN SEVGİ.
Mathematical Reports,
22(2),
121-131.
2019 - Cohomological dimension and top local cohomology modules
ERDOĞDU VAHAP,YILDIRIM TUĞBA.
Rocky Mountain Journal of Mathematics,
49(6),
1843-1855.
2018 - On the Matlis duals of local cohomology modules
LYUBEZNIK GENNADY,YILDIRIM TUĞBA.
Proceedings of the American Mathematical Society,
146(9),
3715-3720.