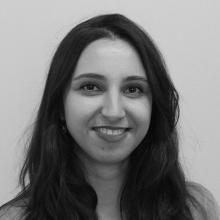 Burcu Sağlam Sarıkaya,

Research Asst.

Research Assistant
Burcu Sağlam Sarıkaya received her BA in sociology from Boğaziçi University with an honorary degree in 2014. The same year, she started the Sociology MA program at Istanbul Şehir University Social Sciences Institute and completed her master's thesis in September 2017. Currently, she is a Sociology Ph.D. student at Marmara University. Since 2017, she is a research assistant in the Faculty of Arts and Sciences, Sociology Department.
Research Area: cultural sociology, historical sociology, sociology of religion, history Ottoman/Turkish music
2020 - KÜRT GÖÇÜNDEN DİASPORAYA: ROTALAR, AKTÖRLER VE ULUSAŞIRILIK
SAĞLAM BURCU.
International Journal of Social And Humanities Sciences,
4(2),
115-136.
2017 - A Discussion on the Myth of Mevlânâ in Modern Turkey
SAĞLAM BURCU.
Journal of Intercultural Studies,
38(4),
412-428.
2015 - Türk Müziğinin Hafızası: Saadedin Heper
SAĞLAM BURCU.
Musikişinas,
46-93.